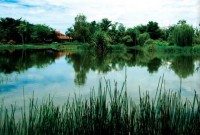 Paya Indah Wetlands (PIW) is the best example of former tin mine transformed into a natural habitat for hundreds of flora and fauna. PIW was put under the management of the Department of Wildlife and National Parks Peninsular Malaysia in 2005.  Today, it has developed into a tourist attraction spot habituated by various wildlife.
Located approximately 50km away from the Kuala Lumpur city centre and not far from Kuala Lumpur International Airport, Paya Indah Wetlands is a perfect settling for city dwellers and travellers to drop by and have a quick retreat by getting close to nature. Its permanent occupants comprise of 229 species of birds, 63 species of mammals, 20 species of reptiles and 14 species species of fresh water fish, apart from becoming the habitat of 220 species of numerous aquatic plants like the grace water lilies that bloom annually from September to November.
Tourists will also be able to see wonderful animals such as hippopotamuses, crocodiles, birds like peacock, purple swamp hen, white-breasted waterhen, grey heron and brown shrike, among others.
For more intimate experience with nature, the management of Paya Indah Wetlands offer comfortable accommodation in the forms of chalets, hostel and camp site, all equipped with proper facilities such as toilets, common hall, seminar hall and picnic site with the capacity of 200 to 300 persons at a time.  Those who spend the night here will get to explore the place more thoroughly by cycling around the area or even kayaking in Sendayan Lake, apart from taking a four-wheel drive Night Safari.  Other than that, the observation tower and Typha platform are the two places for guests to enjoy a clear and unobstructed view of the whole area, making it a perfect photography spot.
For more information about Paya Indah Wetlands, please contact 03-87687616