A trip to Legoland is like taking a Bonneville ride down memory lane. It's both thrilling and nostalgic to see your favourite bricks supersized into an actual theme park and hotel. The fun begins as soon as you enter the lobby with moats of over 100,000 bricks around pillars.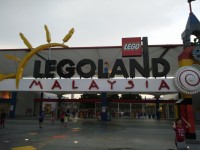 Various models are hung from the ceiling adding a dynamic ambience to the overall experience. Lego exhibits are displayed both in glass cases and in life sizes and they can be found littered across the entire premise, even in the restaurant.
The Legoland Resort in Johor is Asia's very first, with over 70 different rides, slides and other attractions. These attractions are all contained in one location with three different entities; the Theme Park, the Water Park, and the Hotel. The Theme Park is divided into seven themed areas with thrilling rides, Lego workshops and of course the Minilands.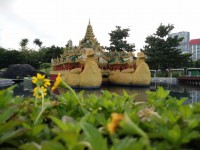 The Minilands takes some of the most interesting landscapes, countries and landmarks and recreates them as miniatures using Lego bricks. In August 2014, Legoland observed the additional of Star Wars Miniland into their already impressive collection of displays. The display was launched in conjunction with the 2nd anniversary of the resort, with over 2000 Lego models built from approximately 1.5 million bricks. Each model is recreated to a scale of 1:20 by a team of 100 people from across the world and is animated, requiring just a button to being them to life. Each cluster in Miniland is a tribute to different cities across Asia including Kuala Lumpur, Johor Bahru and Singapore. For example, there is the Petronas Twin Towers that stands 10 metres tall and its made out of half a million bricks.
Besides the Miniland, the Theme Park consists of five other components; Lego Kingdom, Imagination, Land of Adventure, Lego Technic and Lego City.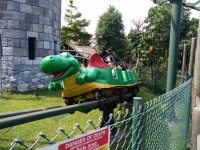 The Kingdom and a medieval settings houses several must-see attractions. The Dragon is a roller coaster that has all the twist and turns for thrill seekers. There is also a stage where there are shows held daily and of course, a Royal Joust that puts children on medieval Lego horses. Imagination, otherwise, the Build and Test Centres are for those who enjoy experimenting and building and inventions can tested on various platforms.
There is also an Observation Tower that lifts a thousand visitors every hour to a vantage point 41 metres above the ground for a panoramic view of the park. Lego Studios is a 4D movie adventure that seats up to 500 people.
The Land of Adventure has a little something for laser tag fans called the Lost Kingdoms. Kids looking for a thrill can be brought to the Beetle Bounce with a pleasant surprise. Thrill seekers will also be interested in Lego Technic which houses yet another brilliant roller coaster called Project X that's ridden with tight corners and a wave surf called the Aquazone Wave Racers.
Finally we have Lego City where children are allowed to take the wheel. There is the Driving School that allows first-hand experience of real-life traffic rules. Speeds go up to 6km/h and children are in complete control of their own vehicles. There is also the shipyard that can be fun for parents too.
The Water Park in Legoland, Johor is the biggest in the world with over 20 unique rides that has all the works, slides waves, wade, pools and water-play structures. One of their signature rides is called Built-A-Raft River where kids could build their own raft using soft bricks and then float down the river. And there is just as many Lego models to go around and snap photos.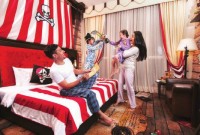 There are 249 rooms in the Lego Hotel with three different themes; Pirate, Kingdom and Adventure, with the pirate theme rooms being deluxe rooms and Kingdoms being exclusive suites. All rooms come with a king-sized bed for the adults and a sleeping area for up to three children, with typical favourites like bunk beds and pull-out trundle beds.
The park is open all year round with standard operating hours of 10am to 6pm for the theme parks. Options for passes includes 1-day tickets, 2-day tickets as well as attractive annual passes.