The Haven Ipoh is the ultimate hideaway for the world-weary traveller. Escape from the hustle and bustle of city life and rejoice in Perak's tallest and most luxurious resort condotel. Indulge in Best Western International (BWI) finest eco-resort in Asia, where the picturesque views will take your breath away.
Operated by the BWI family chain of hotels, the world's largest under its 'Premier' or 5-star status, this exclusive urban resort is set amidst an enchanting paradise that is home to a wealth of flora and fauna. Wake up feeling refreshed as one gazes out of the ample glass windows overlooking the karst hills, tranquil lake and virgin forests.
Be prepared to be pampered at this cosy sanctuary. The Haven's lavish facilities such as its five-level swimming pool, gym, seminar room, ballroom, amphitheatre and Lakeview Suites will provide guests with the best holiday and travel experience. Walk along the pedestrian-friendly tracks and discover the pathway leading to The Haven's magnificent centrepiece, an iconic 14-storey-high, 280-million-year-old limestone hill known as the "Rockhaven". Whether one relishes in indoor relaxation or outdoor entertainment, The Haven's  towering rock formation is always within sight, causing guests to fall in love with the dramatic and alluring scenery.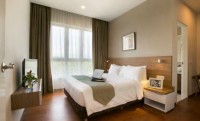 Step outside on the balcony and inhale the rich scent of Mother Nature. Soak in the sounds of the crystal-clear gushing water while luxuriating in the cool, blue depths of the seahorse-shaped swimming pool. Visit Cuisines, the Haven's poolside restaurant, to savour a delightful array of Mediterranean and Middle Eastern dishes, prepared with all-natural, authentic ingredients and exotic spices. Among the mouth-watering choices available are the Hummus, the Moutabal and the Lebanese Tabbouleh Salad.
Imagine a fairytale wedding in this exclusive resort! The Haven grants the wishes of lovebirds who long for the wedding of their dreams, decorating the serene surroundings with pearly white pergolas and fresh orchids. Sweethearts who fancy a grand event can opt for the Elegance Wedding Package.
Apart from the amenities that are second to none, guests can catch a captivating adventure in a prehistoric setting that has withstood the test of time! Come and experience the first via ferrata in Peninsular Malaysia, an exhilarating climb to the top of the 250-foot high 'Mount Haven', and many more challenging courses and team-building programmes. The Haven Ipoh promises a dazzling urban experience in a natural wonderland