A UNESCO World Heritage Site
Melaka (Malacca) is one of the most popular tourist destination. It is home to rich historical heritage, with many historical buildings still standing. Traces of the Portuguese, Dutch and English influences can still be felt when visiting Melaka. Founded in 1400, Melaka was the "Venice of the East" when spice trade flourished.
Remnants of Portugese era and old Dutch buildings can be easily found in Melaka Town, which recalls Melaka's turbulent history, thus a visit to Bandar Hilir and its surrounding areas is a must.
When visiting Melaka, you should not miss visiting these places of interests / attractions:
1. Bandar Hilir (the National Heritage Zone)
2. Jonker Walk
3. Malacca Butterfly & Reptile Sanctuary
4. Jasin Hot Spring
5. Museums (Admiral Cheng Ho Museum / Maritime Museum etc)
6. A'Fomosa Resort, Alor Gajah
Although, there are shopping centres in Melaka, such as Mohkota Parade, Aeon Jusco, you can get antiques, cultural products at many of shops there.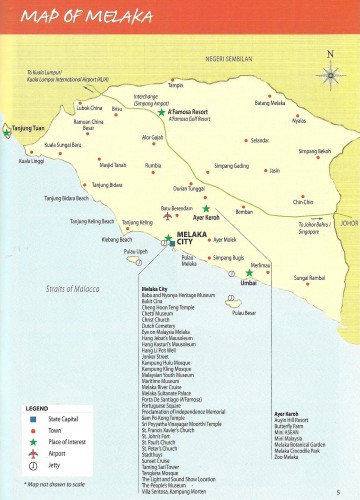 For more tourist information and help, you may contact:
Melaka Tourism
Tel: +606 2883304
www.melaka.gov.my