This luxury hotel promises an unforgettable "home-away-from-hone" ambience.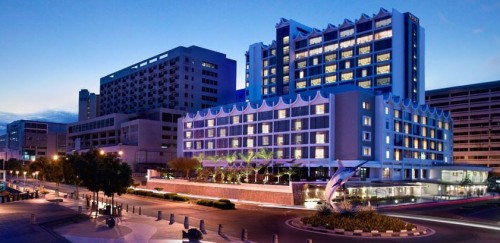 Situated in the heart of KK's business, shopping and entertainment districts, overlooking the grandeur of the coral islands of the Tunku Abdul Rahman Marine Park, KK's first 5-star international hotel takes delighting pampering guests with its fine dining experience, personalized services and outstanding amenities.
Strategically located just 15 minutes away from Kota Kinabalu International Airport and five minutes away from the sea port, Hyatt Regency Kinabalu dazzles on all fronts. The glorious fusion of modernity and traditional elements is depicted in every aspect of the hotel. The architectural design of the building hints of colonial times.
Once inside, prepare to be amazed by the soft neutral colours and natural textiles of its luxurious furnishings. Spot Sabah's home fruit, buah tarap, artistically incorporated in the interior décor together with floral batik creations. Be greeted by the soothing sounds of classical and jazz music as soon as you enter the impressive lounge.
You are invited to discover the beauty of the hotel's 288 spacious guest rooms. Enjoy the panoramic view of the coral islands dotting the smooth surface of the ocean. Surround yourself with stunning images of the cityscape at night, a truly memorable sight. All of the guest rooms, including the Presidential Suite, 12 Regency Executive Suites and four Regency Suites, are the epitome of the finest comfort possible.
The City View Guest Room never fails to provide you with much needed creature comforts after a long day of meetings or sightseeing trips. Each room is a dreamy wonderland with a breathtaking vista. Soak your legs in the bathtub after a long walk and luxuriate in the splendour of your surroundings.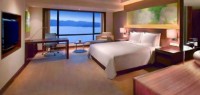 Couples on their honeymoon will definitely fall in love with the Sea View Guest Room. Wake up to a romantic view of the coral island framing the Tunku Abdul Rahman Marine Park. It is the perfect setting for creating everlasting memories.