Cameron Highlands is a great weekend getaway from the bustling city.  Strawberries and tea plantations aren't the only attractions there.  Beautiful vistas and intriguing historical attractions await the intrepid traveller.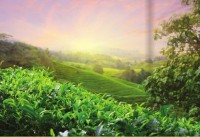 Cool weather, rolling hills of scenic tea plantations, and a whole range of leisure pursuits make Cameron Highlands a desirable destination for family bonding.
The Cameron Highlands is unlike any other places of interest in Malaysia. It is not only home to hundreds of floral species that are rare to the tropics; it is also an area with a substantially different ecosystem. There are more than 700 species of plants that grow here.
With a refreshing climate between 15 and 25 degree Celsius all year round, activities in Cameron Highlands are generally nature and agro-tourism-based. Markets. farms and nurseries make up the majority of the attractions.  Nature lovers have a choice of 14 different trails of varying lengths and degrees of difficulty to explore the jungles of the highlands.  However, no nature tour is complete without a visit to Mossy Forest, which is over 200 million years old, at the peak of Mount Brinchang. At 6,666 ft above sea level, the mountain is the highest point in Peninsular Malaysia accessible by road.
Another attraction in Cameron Highlands is the tea plantations.  Whether you are a tea drinker or not, a visit to this green carpet is highly encouraged to learn more about local tea, its string of benefits and the tea making process.