Homestay Programme in Malaysia
A tourism product in Malaysia that is becoming increasingly popular among local and foreign tourists is the homestay programme. Under the homestay programme, tourists live with a local family in a kampung (village) house and learn about close-knit family relationships, enjoy sumptuous home-cooked food and discover the simple lifestyle in the country. It offers a chance for visitors to experience the daily life outside of bustling capital cities and put tourists closer to our natural "assets", the culture and friendly people of Malaysia.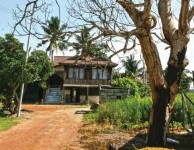 Each homestay village has something unique to offer tourists and organises its own special activities for their guests such as jungle trekking, fishing, rubber tapping, fruit picking, handicraft-making, etc. From just RM80 a day, a guest will be hosted by a family and share their meals and enjoy the daily routines of a kampung life.  Accommodation is usually in traditional wooden houses on stilts set amidst a pretty landscaped garden. Basic amenities include bed and bathroom (either en suite or commonly shared).
The homestay programme in Malaysia was first launched in 1995 in Temeroh, Pahang. Since then villages in other states have caught on to the concept of hosting tourists in their kampung homes, and today, there is a choice of village offering the homestay experience in every state.
Generally, the homestay development policy in Malaysia emphasises the utilisation of available resources of the kampung, the conservation and maintenance of socio-cultural and artistic customs of the village and also highlights the uniqueness of the Malaysian village life.
Tourists are drawn to visit homestays in Selangor for its culture and heritage experience. Most homestays are operated by small-scale farmers and villages, assisted and monitored by the state government, the Ministry of Tourism, Tourism Malaysia and Tourism Selangor Sdn Bhd.
To experience HomeStay programme in Malaysia, visit http://www.go2homestay.com for homestay programmes.