Experience a rail journey like no other. It took indentured Tamil labourers eight years to build the 500km long jungle railway from Gemas to Tumpat, on the north-east coast near Kota Bharu. The first section from Gemas to Kuala Lipis opened in 1920, with the full extent of the line following in 1931. Initially it was used exclusively for freight – tin and rubber, and later oil palm – until a passenger service, originally known as the "Golden Blowpipe", opened in 1938.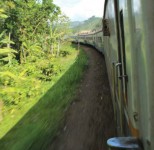 Today the route is mostly served by trains from Singapore, with just one daily from KL. Aslo known by various names – The East Coast Line, East Line or East South Route, it runs from Tumpat, near the Thai border just north of Kota Bharu all the way down to Gemas where it joins up with the west coast line, which runs all the way from Singapore to Bangkok via Johor Bahru, Kuala Lumpur and Penang.
But Jungle Railway is a more apt description because it passes through the sparsely populated and heavily forested interior of Peninsular Malaysia and skirts the Taman Negera and Kenong Rimba National parks. It is often touted as one of the world's most scenic rail journeys, a train journey of about 500km lasting almost 10 hours.
The journey, if taken from Gemas, would bring you to Kuala Lipis sections and to the Taman Negara and Kenong Rimba national park. After spending time in Taman Negara and Kenong Rimba national parks, you can start your Jungle Railway trip at Kuala Lipis and get off at Gua Musang, which is definitely worth exploring with its interesting cave with accommodation available.
From Gua Musang, head to Dabong by road where river cruises are available. From Dabong, get back on the train and continue the journey to Kota Bharu (Wakaf Bharu Station) which is an interesting city in its own right as well as being the jumping off point for Perhentian Island and the east coast beaches, or continuing through to Thailand.
The Jungle Train – in its own charming way – is a run-down silver shell, powered by diesel. The carriages are simple, offering second class and economy carriages, with no dining car and a temperamental air-conditioning system. Looking worn down and fairly ordinary, dating to the 1980s, the only advantages of the so-call "first class" carriages seem to be air conditioning and slightly larger seats.
But what the train lacks in comforts, it makes up for in charm and views of the Malaysian jungle unfold out of the window. The train regularly grinds to a halt at towns and villages along the wat, Some stations and their platforms are well marked, while at others, their names are inked on wooden signs in the ground.
The Jungle Railway's official name is less romantic "Sektor Timur & Selatan" (East and South Route), managed by KTM. Timetables are to be taken with a pinch of salt, as delay aren't uncommon – cattle grazing along the track siding caused constant problems for train drivers.
Take note that the daytime jungle railway train has no restaurant, so don't forget to bring food and drinks along to keep you going for 10 hours!
Check out KTMB's website (www.ktmb.com.my) for more information.