Immerse in exotic culture
Senau Homestay in Mukah offers guests postcard-perfect holiday experience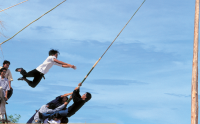 If you are planning to visit Sarawak because you want to experience a unique stay, perhaps you should consider coming in April for the Pesta Kaul, which Mukah is famous for.
Your unique stay will come in the form of a village way of life as offered by Senau Homestay, Borneo's latest ecotourism destination in Mukah Division.
Senau is a village in Oya that gets its name from a nearby river of the same name.  That river in turn get its name from a fish that once ruled it waters and practically kept people to its banks because of its sting.   Today, Kampung Senau is accessible by both road and river. Just 19km from Mukah town, it has a beautiful beach that draws huge crowds on weekends and public holidays.  It is basically a fishing village, although the people are also involved in farming, gardening and handicraft-making.
Senau Homestay involves nine families who will be providing comfortable rooms for their guests with a touch of exotic warmth and friendly hospitality along with culture and nature at their best. The homestay offers 2D1n package that includes a welcome drink, cultural dance performance, accommodation with 4 meals per day.  It also include food cooking demonstration, prawn form visit and bermukun singing.  This 2d1n package starts from RM254 to RM559 and if you opt for 3d2n, it will starts from RM364 to RM741.
Senau Homestay coordinator Rafidah Hakim said the Homestay's biggest draw came from the village itself – its 1,000 mixed population of Melanau, Iban and Malay whose simple, yet unique lifestyle will awe any visitor.
"You really have to spend nights with us to know what I mean." She said, adding that social activities came naturally to the villagers and that visitors keen on gotong-royong events would find themselves immersed anytime they wanted to.  Rafidah can be contacted at +6084-871 416 or +6019 844 7602.