Seri Chenang Resort and Spa Langkawi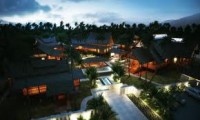 Imagine the romance of a candlelight dinner arranged specially by a personal butler at the tip of Gunung Macinchang in Langkawi, or treading on the white sand of Cenang beach at sunset to ignite romance. Seri Chenang Resort and Spa Langkawi offers a plethora of experience and memories to be made.
"We tailor-make holidays and we aim for a highly personalised treatment based on what the guests are looking for. We will get information from the guests beforehand so that we can prepare activities especially for them." Said Norlin Datuk Zainal Abidin, Seri Chenang Resort and Spa Langkawi chief executive officer.
Seri Chenang Resort and Spa Langkawi's butler system is most probably the first in Malaysia where it prioritises personalised treatment and Seri Chenang Resort and Spa is set to be a luxury boutique resort much like an exclusive enclave located at the Chenang beach area.
Seri Chenang Resort and Spa Langkawi houses a cluster of kampung (Malay Village) style villas congregated at a private hillside overlooking Chenang beach. The palm trees, the soothing breeze and the houses on stits will transport guests to a Malay village untouched by time. Traditional Malay architecture is preserved in six villas crafted according to the architectural styles found in six different states in Malaysia: Nergeri Sembilan, Terengganu, Pahang, Selangor, Malacca and Kedah. The traditional exterior of kampung houses is complemented by modern interior decor and the suites offered in the villas ranged from self-contained studios with open sky shower to apartments with their own living rooms and kitchens.
Kitchen areas at each villa become points of communion for guests ti mingle, thus creating a sense of community in the village and the traditions and nuances of Malay culture permeate every level of service at the resort.
"We want the guest to experience Malay hospitality and to allow them to get into the roots of Malay culture. We also bring them to a place by the river where guests can purchase freshly caught fish right off the fishermen's boat and we will then prepare the fish for the guests at the resort." said Norlin.
As Seri Chenang Resort and Spa Langkawi does not sell alcohol, guest may purchase any alcoholic beverages by themselves, taking advantage of the duty-free environment of Langkawi.
Beside the services offered, Seri Chenang Resort and Spa Langkawi's Kayangan Spa enables you to relax and rejuvenate in the refuge of Langkawi.
Seri Chanang Resort and Spa Langkawi is located at lot 1150, Pantai Chenang Mukim Kendawang, 07000 Langkawi. For more information, please visit www.serichenangresort.com