GTower Hotel, Kuala Lumpur
Malaysia's First Fully Certified Green Hotel in Kuala Lumpur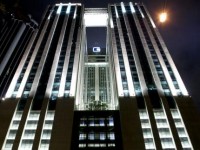 GTower Hotel in Kuala Lumpur is 180-room boutique hotel designed for Business Travel, featuring a convergence of style, form and function into a singular and distinctive offering – Forming the key essentials of what makes business trips great.
Emphasizing a personalized service experience, Les Clef D'Or Concierge, world class amenities, private "Member's-Only" Club and high speed connectivity, GTwoer Hotel is fast becoming an iconic hospitality experience for the discerning business traveler looking for a space for private and business networking.
GTower Hotel is also the first Fully Certified Green Hotel (Building & Construction Authority of Singapore, Green Mark Gold Standard). Among key Green features include the innovative use of harnessing waste energy from the air conditioning system to heat water for the pool and showers, an eco-friendly pool which uses salt to ensure good water quality and use of energy efficient lighting.
Being in the heart of Kuala Lumpur, within the KLCC & Embassy precincts, offers guests the opportunity to a unique perspective on the Malaysian way of life. GTower Hotel is located strategically close to business and shopping districts with plenty of transport options for venturing further afield. The LRT station (Ampang Park) is just few minutes walk.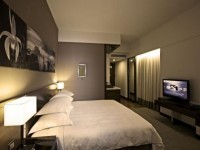 All rooms in GTower Hotel come loaded with state-of-the-art technology and gadgets such as iPod docks, IP televisions, complimentary broadband as well as IP telephony. Necessary comforts for the busy executive to recharge and get inspired are close at hand, such as executive writing desks, LCD flat screen television in the bathroom, premium toiletries, rain shower, designer furniture and slumber beds.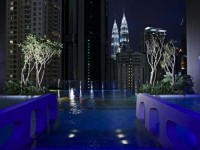 There is also an infinity pool and jacuzzi, with breathtaking views of the Petronas Twin Towers adjacent to the hotel's reception at level 11. It is an eco-friendly pool which reduces the use of chemicals for cleaning, thus ensuring good water quality and less impact on the environment.
Another unique 'must-see' is The Bridge Bar, hosting unparalleled views of the KL skyline as well as state-of-the-art glass flooring. Nestled within The Club, the Bridge Bar 'floats' between the two towers and like the rest of the hotel carries through with a dominant recycling theme. With award winning bartenders catering to your every need; The Club is the corporate location to entertain in style and privacy.
Executive club rooms overlooking the main central business district intersection includes plush king or twin size beds, marble finished bathroom with rain shower and a strategically placed
[tb_google_map]
For more information about GTower Hotel or reservation, please call: +603 21681919 or visit www.gtowerhotel.com