One of YTL's newest additions to its resort family – opens the doorway to Sabah's idyllic golden beaches and spectacular dive sites. But it also allows guests to get up close to another of the region's star attactions: the orang utan and endangered proboscis monkey.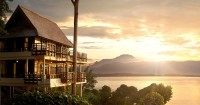 A short boat ride from Kota Kinabalu, Sabah, this largest island in the Tunku Abdul Rahman Marine Park is a haven for travellers looking for a holiday with that little bit extra. From activities designed around conservation to authentic experiences indigenous to Borneo, Gaya Island is a launchpad for a holiday that will be remembered long after your footprints have been washed away by the gentle waves along the shore.
Aquatic activities are led by resident marine biologist Scott Mayback, who has years of experience in the areas of coral reef restoration, coral planting and turtle rehabilitation. He leads excursions to educate guests on marine life and preserving a healthy ecological environment.
The Gaya Island Resort Marine Centre, which advocates three conservation pillars – Turtle Rescue, Coral Reef Restoration and Conservation Through Education – serves as a turtle rehabilitation centre and it also boasts a turtle rescue hotline. The centre is committed to leading the community and resort guests in conservation awareness. The plight of Ninja, the young green sea turtle rescued and nursed back to health here, was well documented in the media last year when it was released into its natural habitat after spending a couple of months at the centre.
Those who enjoy the cool shade of the protected dipterocarp forest (gazetted as Sabah's second National Park in 1974), can join resident naturalist and Tawau native, Justin Juhun, on exciting forays through the jungle. His passion is sharing stories on the fauna in the region, and how it nutures more than 50 local wildlife species including Orang Utans, Borneo Pygmy Elephants, Borneo Gibbons and Maroon Langurs. Justin crafts distinctive nature trails and he acts as the eyes and ears to the surroundings during the daily guided walks.
The preservation of the proboscis monkey is also top priority here – a family of 30 resides on Gaya Island. The Gaya Island Wildlife Discover Centre will be another outpost that will double up as a nature centre and a wildlife preservation and biological station for the research, study and care of wildlife species.
The architecture of the resort's dwellings, which lie among an ancient rainforest and protected mangroves, respects the natural elements of the land; the 120 villas and two-bedroom suites use local materials and blend harmoniously with the surroundings.
The Spa Village honours its setting too; it lies in a mangrove and this tranquil hideaway utilises only the finest, fresh local ingredients in its treatments. Its wellness programmes reflect the healing traditions of Sabah's many indigenous people.