Sepilok Orang Utan Sanctuary, Sandakan
Sabah's Top Tourist Attractions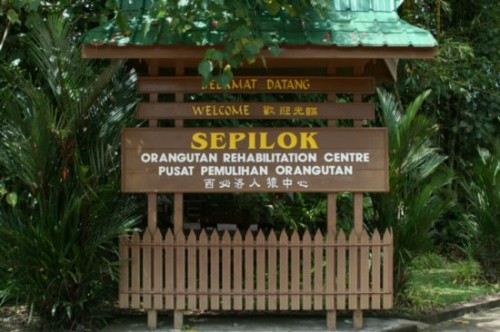 The Sepilok Orang Utan Rehabilitation Centre was set up in 1964 to rehabilitate orphaned baby orang utan. Set in the lush 4,300-hectare Kabili-Sepilok Forest Reserve, the Centre under the administration of the Wildlife Department of Sabah attracts tourists and researchers alike, giving them the opportunity to watch the orang utan up close in their natural habitat. A boardwalk leads you to a viewing gallery and feeding platform where the apes are fed milk and bananas twice a day at 10.00am and 3.00pm by rangers. Feeding time also attracts long-tailed macaques to the area.
While orang utan rehabilitation is still the primary goal at Sepilok, it also focuses on public education on conservation, research and assistance on other endangered species such as the rhinoceros.
Visitors are restricted to walkways. Some orang utan have become familiar with people but touching them is strongly discouraged, and while the apes are naturally shy and gentle, the more mischievous ones may try to grab your camera or hat, in which case you should call for a ranger as trying to wrestle the 200 pound apes may not be a good idea.
For the more adventurous, there is trekking through mangrove forest. As this is under the Forestry Department, you will have to get a permit from them before trekking the 5km trail which runs through Sepilok Laut. You can also arrange for a boat return or accommodation in chalets in the forest.
Getting There
If you are not on any tour, public buses and taxis are available from Sandakan town. The Labuk Road Bus Company vehicles depart from the front of the Sandakan Town Council (Majlis Perbandaran Sandakan or MPS) from 6.00 am onwards. Fares are RM2.10 one way, but it will only stop at the junction to the Centre. You will have to walk about one and a half km in. You can hire a taxi for a return trip for about RM100.00 negotiable. The distance between town and the Centre is approximately 23km.
Opening Hours
Security Gate: Daily from 8.00am till 5.00pm
Reception & Ticketing Counter: Daily from 9.00am till 11.00am and 2.00pm till 3.30pm
Exhibition Hall: Daily (except Fridays) from 9.00am till 4.30pm
Centre: Daily from 9.00am till 12.00pm and 2.00pm till 4.00pm Fridays 9.00am till 11.00am, 2.00pm till 4.00pm
[tb_google_map]