PutraJaya Marriott Hotel & Spa
UNFORGETTABLE FAMILY MOMENTS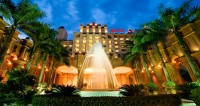 At times, you may find the need to just get away from the hustle and bustle of the hectic city, and enjoy a vacation with your loved ones. So, what better way to celebrate and rekindle family moments than in the comfort of Putrajaya Marriott Hotel & Spa.
Set within lush botanical splendour, the Putrajaya Marriott Hotel in Putrajaya is strategically located and just 25 minutes from the Kuala Lumpur City Centre, Kuala Lumpur International Airport and the Sepang International Circuit. The hotel concept is a combination of Mediterranean-Moorish architecture and its interior design is inspired by the palm motif.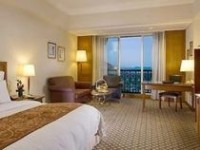 The hotel has 380 elegant and spacious guestrooms, 73 executive rooms and 35 exclusive suites. All rooms meet international standards. Guests can enjoy the Revive Bedding Collection of soft, silky, 300 thread count sheets, customised duvets, fluffy pillows and perfect mattresses. Rooms also feature a colour TV set with satellite channels, IDD telephone, internet access, personal in-room safe, steam iron and ironing board, and bathrooms with a separate bath tub and glass shower cubicle.
Whether the trip is for business or pleasure, Putrajaya Marriott Hotel & Spa provides an extensive range of activities guests can enjoy and relax in. Heading towards a more holistic approach with rejuvenating therapies for guest, the internationally acclaimed Dewi Sri Spa by Martha Tilaar has opened its doors at the Putrajaya Marriott Hotel & Spa. Revel in Asia's ancient rejuvenation and beauty traditions. A visit to the Dewi Sri Spa by Martha Tilaar is sure to enhance your stay and well-being. The Spa offers one double and seven single massage rooms, a facial room with triple beds, two hair treatment rooms, a foot reflexology lounge, sand bath facilities and hydrotherapy tub rooms. All the therapists are fully trained and certified at the Martha Tilaar Training School in Indonesia before deployed at the Putrajaya Marriott Hotel & Spa.
Additionally, sunbathe or swim at the swimming at the stunning lagoon-shaped swimming pool, work out in its well equipped fitness centre or tee-off at the Palm Garden Golf Club 27-hope championship course with an option of day or night golfing.
The Five-star hotel in Putrajaya also offers the finest chefs, the freshest ingredients and the widest choices at its seven food and beverage outlets. Putrajaya Marriott's Chinese restaurant, the Summer Palace, serves authentic Szechuan and Cantonese cuisine. Midori, the Japanese restaurant serves Tokyo-style Japanese cuisine. For light refreshments and a sip of your favourite cocktail, there is the Lobby Lounge and Karaoke bar that offers nightly live band entertainment. Private karaoke rooms can be booked for those in the mood for singing.
Meanwhile, sports fans will not be left out as live telecast of major events, is available all day long at the Sports Lounge, an extension of the Lobby Lounge.
Italian food enthusiasts will be delighted with the award-winning Tuscany Italian Restaurant & Pizza Bar. The serene ambience and fine Italian cuisine promises an exquisite dining experience.
[tb_google_map]