Petaling Street (ChinaTown in Kuala Lumpur)
Kuala Lumpur Petaling Street is a popular tourist haunt resembling Chinatown enclaves found around the world. This bustling street market has for years been a hot spot favoured by both locals and foreigners.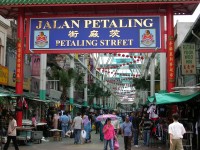 The market is located within one of the earliest Chinese settlement areas in Kuala Lumpur and is filled with rows of quaint utilitarian shop lots that are still occupied today. They sell a mix of items from clothes to accessories, household items, dry produce and traditional holistic medicines. The street market itself comprises peddlers and vendors who set up stalls along the interconnecting roads which are pedestrian walkways. It is a pretty sight in the evenings when coloured lights and lanterns light up the area.
Petaling Street (Chinatown Kuala Lumpur) is sought after for its jumble of souvenirs and knick knacks that make interesting little gifts to bring home. Shoppers often have a field day filling their bags up with bargains of clothes, gadgets and more. Remember to bargain fiercely and cut their offer price by more then 60%. Be prepare to walk away and search for more bargain buy.
Food & fruit sellers carry out brisk business too with their variety of fruits, cakes and local cuisine. Toward the evening, tourists can be seem attempting to work the chopsticks or winding down with a cold drink at road-side food outlets where, Chinese cuisine and seafood delicacies are a hit.
Other eye-catching elements at the Petaling Street are the flower vendors who sell blooms in multiple hues as well as the traditional India florists who deftly weave jasmines and other pretty flowers into garlands. Don't miss the Taoist and Hindu temples close by too; both places of worship are adorned with delicated carving, etchings and colourful figurines on the exterior and interior premises.
The excitement of the Petaling Street's vibrant atmosphere could possibly carry you away – but while you enjoy shopping do remember that bargaining is the rule of thumb here.
If time is on your side, you may want to visit the Central Market, which is just few minutes walk across the road.