Northernmost Tip of Borneo – Tanjung Simpang Mengayau
Tanjung Simpang Mengayau, Northernmost tip of Borneo, a place like no other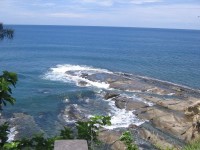 It is expected that Mt Kinabalu come to mind when Sabah is mentioned, since it is the highest mountain in Malaysia. However, mentioned Tanjung Simpang Mengayau, many faces turn blank and clueless. Tanjung Simpang Mengayau, in the district of Kudat, actaully refers to the northernmost tip of Borneo.
It is located about 215km from Kota Kinabalu and takes about three to four hours by car. The roads leading to the point, being a rural road is quite uneven with many potholes, as it is frequent by plantation vehicles.
A giant globe and flag pole flying the Malaysia National Flag await visitors to the area. Take a closer look at the globe and the history of the place is revealed, including how it got its name. The Rungus people – dominant indigenous group in the Kudat district – call this place "Tanjung Sampang Mangazou" meaning Battle Junction Cape. This is believed that this was where battles were fought by brave Rungus warriors defending their homeland from invading enemies.
Just a short walk down a flight of steps is what most people would come here for, to see for themselves the very tip of Borneo, the world's third largest island after Greenland and New Guinea. It is here where two seas meet, the South China Sea from the west and the Sulu Sea from the east. Being the meeting point of two seas, strong currents which are responsible for wrecking many ships in the days of old, sending them crashing against the coral reefs.
A little island with a lighthouse to the east serves as a reminder of danger that lies beneath all that beauty. It is not known for sure how many shipwrecks lie in the waters, but their presence in the area is a testament to the power of nature.
Over the years, the infrastructure and amenities have been significantly upgraded with a public rest area, a cafe, souvenir shop and washrooms. A handful of small resorts and homestays have sprung up in recent times to cater to the increasing number of tourists, looking for a place to stay. If you are staying for a couple of days, you will have the opportunity to witness amazing sunrises and sunset. However, if you are a visiting on a day trip, you will need to leave before dark as the drive back to Kudat town in the darkness can be tricky.
The resort operators also offer services such as renting out snorkelling gear and guided tours. Certified scuba divers may also want to enquire about diving trips to explore the beautiful underwater world further out at sea. Some villagers also provide such services and even rent out boats for fishing which is good news for anglers. A variety of beach and sea activities can be enjoyed here. One may choose to laze on the white sandy beach, walk the entire length of the white sandy beach, go snorkelling, or just swim in the warms seas.
So, if you are planning to visit Sabah, you may want to include Tanjung Simpang Mengayau.