Federal Hotel KL – Heart of Bukit Bintang
SHOP! Shop! Shop! If you are planning a sensational shopping spree experience in Malaysia, come stay at The Federal KL located in the popular Bukit Bintang, the shopping paradise and gourmet paradise.
Bukit Bintang has always been popular and fashionable, whether you fancy cuisine, hawker stalls, brand name fashion or quirky local boutiques, it's all available in Bukit Bintang. Combining historical charms with contemporary chic, the hip and happening Bukit Bintang area remains one of KL's trendiest shopping and entertainment districts.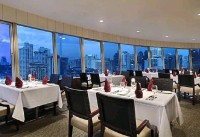 Bukit Bintang never sleeps, it is popular among tourists and locals of all ages especially the youths.
From shopping to sampling a variety of local flavours or catching the latest release in the nearby cinema. It is a one-stop destination perfect for tourists.
This area is home to many landmark shopping centres, cafes, clubs, shops, malls and speciality shops. After a tiring shopping day, come stay at The Federal KL's newly renovated Merdeka Wing Room. It offers a modern, welcoming and relaxing ambience for holiday goers. The new Merdeka Wing Rooms are designed with pleasure and convenience in mind; providing a place to unwind or to catch up on work.
With comfort and quality amenities plus exclusive privileges at the Merdeka Lounge, these rooms are an excellent choice for travellers who require personalised attention and services.
The Merdeka Lounge is the perfect sanctuary to entertain guests or to relax and enjoy the exquisite selection of meals away from the hustle and bustle of the crowd.
There might be no better seat in KL for dining or sipping a drink while soaking in the atmosphere and sunset or simply enjoying the stunning 360° panoramic view of the city from the comfort of your dining table at the Bintang Revolving Restaurant.
Malaysia's first revolving restaurant, Bintang Revolving restaurant is a landmark in KL. Offering majestic views of the city skyline, it allows diners to enjoy The Federal's fine dining at its best.